SUE MUE - AFREEN COLLECTION




Written by - Shereen Sikka and Amaira Chhabria









"When Trishala and I came across the label "

Sue Mue

", it was unheard of. To our surprise our mother was not only aware of it but has also worn their bespoke and customized creations while growing up in New Delhi. Back then, the designer brand was a go-to for her, our grandmother and so on. With a 50 year old legacy behind them, they've maintained their aesthetic and are nowhere near done."
---



Sue Mue's classy, traditional vibe runs through all their silhouettes and each piece has a story to tell. Not to mention I love how they've seamlessly infused an understated elegance and laid back charm in their Fall/Winter 2018 collection "Aafreen" which means beautiful or pure soul. An ode to the romance of history, the line is inspired from the beautiful and meaningful motifs of Persian rugs and brings back to life the beauty of that time gone by. From incorporating grand hand embroideries, striking geometric patterns, subdued colours and an exquisite play of fabrics into their meticulously crafted looks, I feel the timelessness of every garment is undoubtedly unsurpassed.


And the moment I laid my eyes on their graceful outfits with modern day sensibilities I instantly connected with them, and couldn't resist styling them. Instead of dressing them up or down by adding a jacket or belt, I felt both looks called for minimal styling since Sue Mue's outfits are far from being intimidating. They are fuss free and have a strong personality, which is why they tend to make quite a statement.


For an effortless feel I first wore an Ivory Bridal Silk Lehenga Set highlighted with multi-coloured patchwork.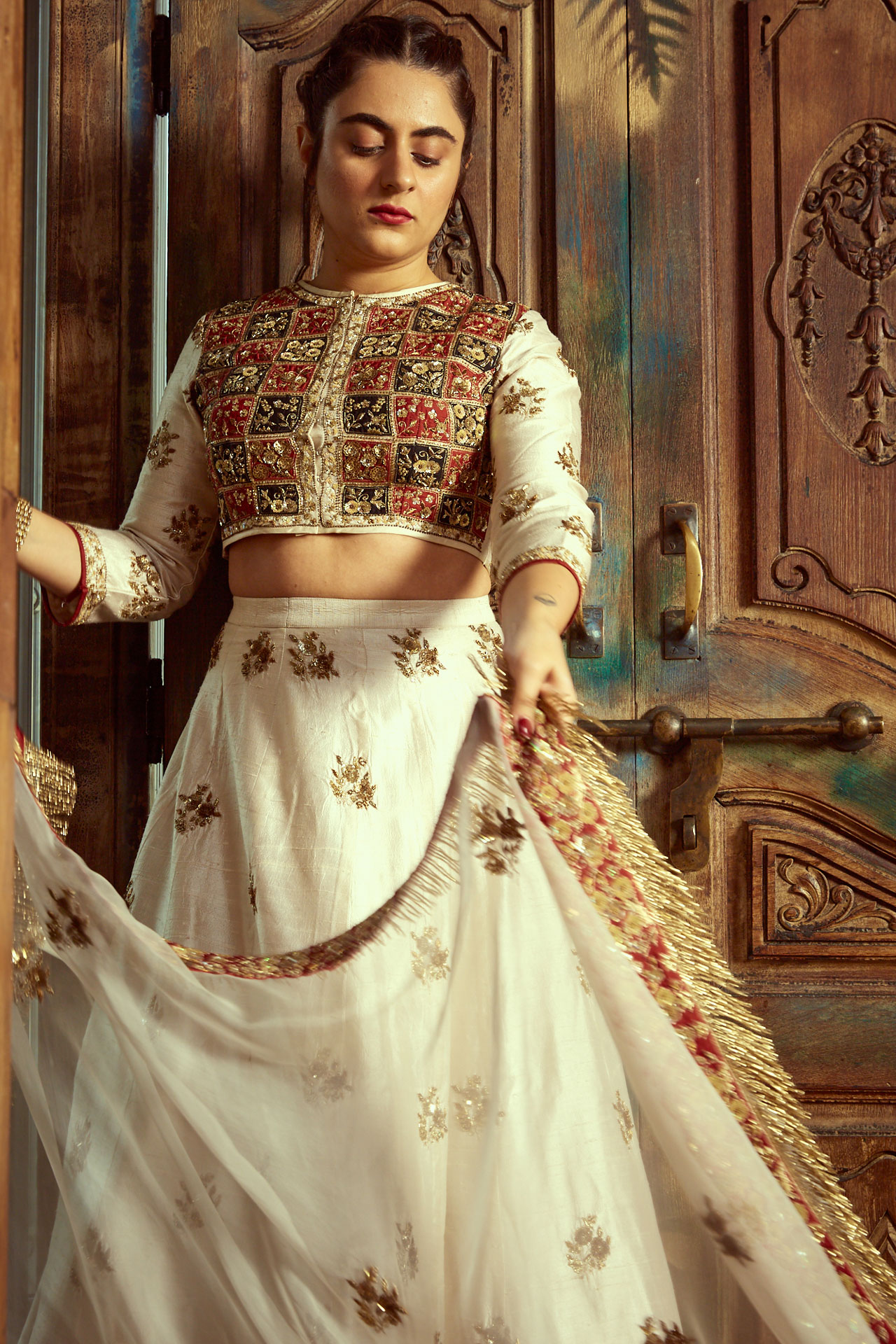 Next up was a Grey Sharara Set with appliqué hand embroidery. Interestingly, nothing about both the outfits felt excessive and these were worthy of appreciation from every angle. I styled my hair in strong, modern braids so as to breathe a poetic appeal into my look.








Sue Mue's bridal, prêt and couture line including flowy kalidars, loose fit kurta's and so on have something for everyone. Apart from that, their craftsmanship, finishing and detailing are all spot on, which is why modern brides or wedding goers could easily achieve festive dressing goals. So, if subtle opulence is what you have in mind, then their outfits will surely serve the purpose.



---





SIMILAR POSTS




Find more posts about Bride.